Market Report – The tipping point has been reached with another 218 Yachts over 30m being launched within the next year and a fixed supply of mooring spaces prices surge as availability falls.
A friend was asked by the Captain of his Sister-Ship for a mooring for his 37m Heesen, not only were the Winter storms approaching but the major shipyards were completely booked for the Winter period, STP one of the premier shipyards in Europe with a 1000 Ton Travel lift was fully booked until March.. With all the Superyacht moorings in Mallorca fully booked for the Winter the 37m had to Stay on Anchor for 3 weeks before her lift slot came available at one of Palma's shipyards could provide safe harbour. This is not the only story, I was contacted recently by the Captain of a 20m New build Sunreef Catamaran who needed a mooring for a few weeks who wasn't able to locate one and had to take the risky option of being on anchor during the winter period. In the end the owner decided to take a yacht delivery services to the Caribbean where they currently found safe harbour.
Mallorca, Ibiza & the Balearics have become such a treasure and enjoyable place to Boat that there is increasingly limited availability for both long term and short term mooring spaces of all sizes on these Islands. During the winter periods there is now also limited shipyard availability, this trend is simply set to continue with another 218 (in Build) Boats which are currently registered for launch in 2019 of a size greater than 30m and another 200+ in build for delivery in 2020 the scarcity of Balearic moorings will only intensify.
Mallorca and the wider Balearics has become one of the most sought after and attractive cruising grounds, the number of charter companies and boat clubs are growing each year, being within easy reach of all of Europe's Major Cities, circa 2 hours from London, Berlin, Paris, Amsterdam, Zurich, Rome.. The Balearic offer a quick escape from the metropolis and provide sheer beauty in the deep Blue Mediterranean Sea and world renowned beaches, it is the perfect location to keep your Superyacht. Ibiza, Formentera, Mallorca and Menorca each have a unique habitat and between them literally thousands of beautiful beaches and bays to anchor and soak in the Mediterranean sun, crystal clear waters and white sandy beaches it´s hard to resist the call for another spot of Tapas & a caña.
Mallorca also has the added luxury of Unesco World heritage sites in the Serra de Tramuntana mountains which have attracted celebrities such as the adventure seeking Richard Branson, movie stars such as Michael Douglas and have been playgrounds to divergent talents from Frédéric François Chopin to Pablo Picasso.
The attractions of the Balearics has filtered down to the waiting list of the Marinas which currently have a waiting list of over 4000 boatsmen.. With shipyard at full capacity and hundreds of new boats entering the territory each year our advice would be to secure your mooring sooner rather than later. Securing a mooring comes with a number of advantages.
This Shipyard period in Mallorca has been one of the busiest with Mallorca's shipyards being fully booked for the period the 2018/2019 season. STP´s 1000 Ton travel lift is capable of lifting some of the largest private vessels in the Mediterranean. Mallorca has a professional set of Marine Service, Refit and Yacht brokerage specialists for both Sail and Motor yachts, with some of the best craftsmen in the Mediterranean it´s easy to see why we are the first port of call for many Superyacht Refits, Palma is also the first choice for professional captains for the safety of her marinas and professional service of the Marine companies based here.
Avoid the risk and recent fate of 32m Sailing Yacht Sila Sibiri which was without a mooring during recent storms in Mallorca and was blown into the rocks which look towards the iconic Palma Cathedral. We highly recommend avoiding this dire position and securing your long term mooring. Under current market trends, you will be in a highly favorable position by securing a mooring today and protecting against future market and environmental forces.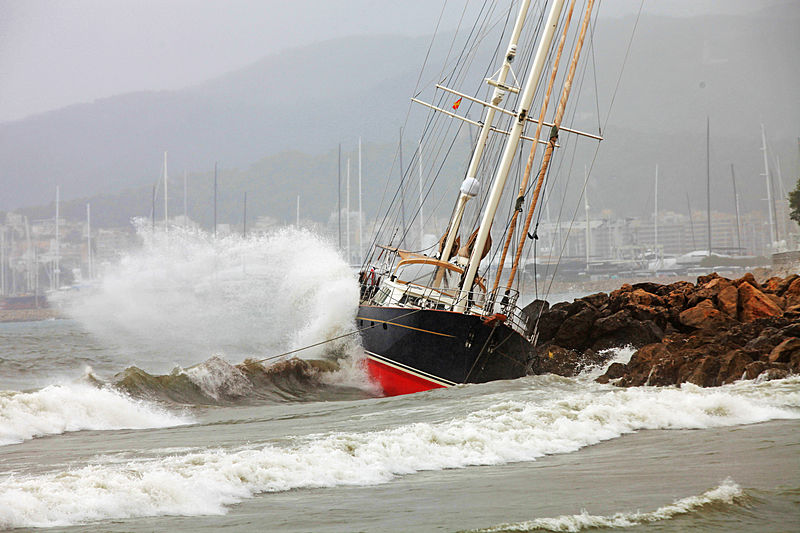 One of the safest Ports in the Mediterranean, Port Adriano currently offers great value, with Moorings capable of holding 100m Yachts, and 260 ton travel lift, the Marina is extremely popular with a fun calendar of events including Live concerts.
The Superyacht Port was superbly designed by Philippe Starck the legendary designer behind a few of the most Iconic Superyachts of our time including Motor Yacht Venus & Sailing Yacht A.
Marlin Marine Services are in the favourable position to have not just one Superyacht Mooring for sale but are able to offer 2, a 45m Mooring as well as a 40m Mooring in Port Adriano Mallorca, Prices are available upon request contact. The moment of full capacity has almost been reached the point of no availability is almost upon us contact Marlin Marine while there is still time.