Marlin Marine are total refit specialists for motor yachts, sailing yachts and superyachts.
With over 20 years of experience with superyachts and motor boats, we have the capabilities to realise your bespoke requirements.
Our project managers Mark & John have over 50 years of marine engineering experience between them and a hands-on approach to refit project management. With a team of over 20 marine professionals behind them and a host of other service partners, Marlin Marine are able to effectively and efficiently provide total refits for sailing yachts,  motor yachts and superyachts.
One stop refit solution
Modern systems technology
Enhance the heritage of any yacht
Long passion for yachts and boats
20 years of experience
Class surveys and general refit works
Project planning
Lloyds, RIVA + etc compliance work
Together with local surveyors we produce projects to fit specific class regulations and historical specifications.
We perform complete restoration and remodelling projects from vision to completion, maximising our resources to ensure projects are completed in a timely manner and to owners' style and tastes.
With the aid of more 200 sq ft of engine and machine workspace at our finger tips, we have capability in-house from fabrication to total engine refit, which means we can provide a cost effective and timely refit. We aim always, to provide a 1st class bespoke service with our clients' best interests in mind.
Estimating & Tendering
Planning Services
Local Class & Insurance surveyors
Project Planning
Technical Services
Engineering Services
Electrical Services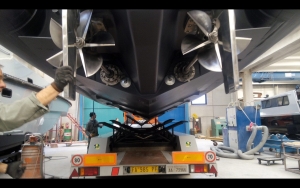 Based in Port Adriano El Toro Mallorca there are extensive facilities for captains and crew:
11000m² Dry Dock Access
Lift Up to 45m
200ft² Machine & Engine workshop
Gas Station
Travelift: Up to 250tn